Xiaomi Corporation ("Xiaomi" or the "Group"; Stock Code: 1810), an internet company with smartphones and smart hardware connected by an Internet of Things ("IoT") platform at its core, today announced its unaudited consolidated results for the third quarter of 2019 ended September 30, 2019 ("3Q2019" or "the Period"). During the Period, the Group's total revenue increased by 5.5% year-on-year ("YoY") to RMB53.7 billion, making 3Q2019 the quarter with the highest total revenue since founding. Adjusted net profit was RMB3.5 billion, increased by 20.3% YoY. The Group's total adjusted net profit in the first three quarters totaled RMB9.2 billion, already exceeded the net profit of last year.
During the Period, the Group continued to operate prudently with its risk resistance capacity steadily improved and gross profit significantly optimized. Gross profit increased by 25.2% YoY to RMB8.2 billion. Gross profit margin was 15.3%. Total cash resources amounted to RMB56.6 billion.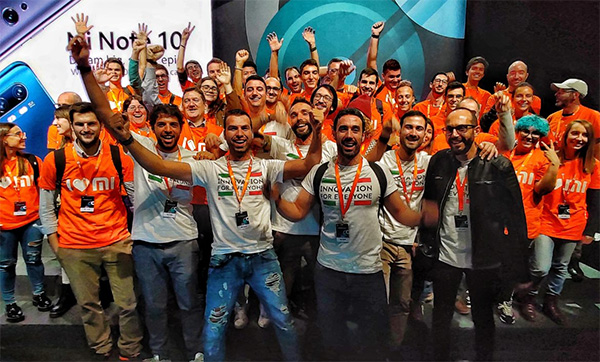 3Q2019 Financial Highlights
Total revenue was approximately RMB53.7 billion, up 5.5% YoY;
Gross profit was approximately RMB8.2 billion, up 25.2% YoY;
Non-IFRS adjusted net profit was approximately RMB3.5 billion, up 20.3% YoY;
Earnings per share were RMB0.106.
Xiaomi Founder, Chairman and CEO Mr. Lei Jun said, "The Group has made continuous progress with the encouraging result of an expanded user base since the adoption of 'Smartphone + AIoT' dual-engine strategy. Following making the 2019 Fortune Global 500 List and Forbes Global 2000 List earlier this year, we also made our debut on the 2019 Fortune Future 50 List and Forbes' Top 100 Digital Companies List, reflecting the international recognition that Xiaomi has gained with regards to its strength in digital economy and its business strategy. In anticipation of the upcoming era of 5G technology in 2020, the Group will continue to stay alert to market trends and operate prudently. With the Company's healthy and stable cash flow and profitability, we are ready to capture and respond to the huge market opportunities that will arise from the widespread adoption of 5G technology, and plan to launch at least 10 models of 5G smartphone in 2020."
3Q2019 Results Review
Improving gross profit of smartphone business on the back of multi-brand advantages
In 3Q2019, due to the downturn in China's smartphone market, the Group's revenue from smartphones segment recorded RMB32.3 billion, down 7.8% YoY. The Group adhered to a prudent operation, continuously optimizing its product portfolio and maintained a steady foothold in mid-to-high-end markets on the back of multi-brand advantages. Product profitability has also been continuously improved, with the gross profit margin of smartphones segment reaching 9.0% in the third quarter, achieving a sequential growth of two consecutive quarters. The gross profit margins in the first quarter and the second quarter were 3.3% and 8.1% respectively. The Group's smartphone sales volume reached 32.10 million units, ranked 4th globally in terms of smartphone shipments, according to Canalys.
Following the introduction of the first Xiaomi 5G smartphone Mi MIX 3 5G in Europe in February this year, Xiaomi launched its first 5G smartphone, Mi 9 Pro 5G in mainland China during the Period, marking another milestone in 5G technology development. In September 2019, Xiaomi released its concept smartphone, Mi MIX Alpha, a futuristic 5G smartphone featuring the world's first surround display and a screen-to-body ratio of 180.6%, demonstrating the Company's continuous efforts in exploring cutting-edge technology. The Company introduced Mi CC9 Pro in November 2019, which is the first mass-produced smartphone to carry a 108MP penta-camera. Mi CC9 Pro Premium Edition achieved a DxOMark score of 121 for overall camera performance, ranking 1st globally at the time of launch.
Driven by the success of multi-brand strategy, Xiaomi's smartphones product portfolio has seen continuous optimization. The average selling price ("ASP") of the Group's smartphones in mainland China increased by 4.6% YoY.
AIoT business maintaining a leading edge in the market
Building a new model of smart life
As of September 30, 2019, the number of connected IoT devices (excluding smartphones and laptops) on Xiaomi's IoT platform reached approximately 213 million units, increased by 62.0% YoY. The number of users who have five or more devices connected to the Company's IoT platform (excluding smartphones and laptops) increased to 3.5 million, up 78.7% YoY. Xiaomi's AI assistant "小愛同學", one of the most active AI voice interactive platforms in mainland China, had 57.9 million monthly active users ("MAU") in September.
Revenue of the IoT and lifestyle products grew rapidly 
Mi TVs ranked 1st in mainland China and top five globally
In 3Q 2019, revenue of the IoT and lifestyle products business rose by 44.4% YoY to RMB15.6 billion, and the proportion of revenue gradually increased from 21.3% in 3Q2018 to 29.1% in the third quarter this year. Global shipments of Xiaomi's smart TVs reached 3.1 million units, increased by 59.8% YoY. According to All View Cloud ("AVC"), Xiaomi ranked 1st in terms of TV shipments in mainland China in 3Q 2019, with a market share of 16.9%. Xiaomi also ranked top five in terms of global TV shipment during the Period.
At the same time, Xiaomi's large home appliance business has also been fully developed. The Group launched 4 Mi Refrigerator in October, sustaining the cost-effective strategy. This means Xiaomi has officially entered the markets of air conditioners, refrigerators and washing machines, further expanded spectrum of products in the large home appliances category and effectively enhanced the connectivity and compatibility of the whole suite of smart home appliances.
During the Singles' Day shopping festival in 2019, Xiaomi's IoT and lifestyle products recorded over 5.55 million in sales volume, increased by 148% YoY. On that day, Xiaomi's smart hardware ranked 1st in terms of sales volume or sales in 219 categories on three major platforms.
Continued diversification of internet service
In the third quarter, revenue from the Group's internet services segment grew by 12.3% YoY to RMB5.3 billion. In September 2019, MAU of MIUI recorded 292 million, increased 29.9% YoY. The proportion of revenue from newly developed business in Internet services continued to increase. Revenue in the third quarter accounted for 37.2% of total internet services revenue and representing a YoY increase of 87.8%. Newly developed business of Internet services means internet services outside of advertising and gaming from mainland China smartphones, including revenue generated from IoT (TV) internet services, overseas internet services, Youpin e-commerce platform and fintech business.
In September 2019, MAU of smart TV and Mi Box increased by 50.1% YoY to 23.90 million, with more than 3.2 million paid subscribers representing a YoY growth of 68.8%. Revenue from fintech business increased by 91.2% YoY to RMB1.0 billion.
Revenue from the overseas business developed rapidly
Unlocked growth potential of mid-to-high-end markets in Western Europe
In recent years, Xiaomi has been committed to expanding its overseas market and the overseas business is quite large at present. The revenue from the overseas markets grew 17.2% YoY to RMB26.1 billion in the third quarter, accounting for 48.7% of total revenue.
According to Canalys, Xiaomi ranked top five in over 40 countries and regions in terms of smartphone shipments. As Western Europe is the key overseas market for the Group in 2019, Xiaomi's smartphones ranked 4th in terms of smartphone shipments in the Western European market with a YoY shipments growth of 90.9%. Moreover, Xiaomi ranked 1st in open market channels and 2nd in the overall market in Spain in terms of smartphone shipments in the third quarter of 2019 with an overall market share of 22.9%, representing a YoY increase in shipments of 63.7%. In November, the overseas version of Mi CC9 Pro, Mi Note 10, was released in Spain.
Meanwhile, Xiaomi maintained a strong leading edge in India market. According to IDC, Xiaomi's has ranked 1st in India in terms of smartphone shipments for nine consecutive quarters.