Global technology leader Xiaomi today announced ShareSave, its brand new cross-border e-commerce platform. ShareSave aims to offer users outside of Chinese mainland a convenient and cost-effective way to purchase ecosystem products that have only been available within Chinese mainland. Using social e-commerce as its core model, ShareSave is a platform where users take the lead every step of the way for a #SharetoSave purchasing experience. As a global initiative, ShareSave is available in India now, with plans to expand to other markets in the future.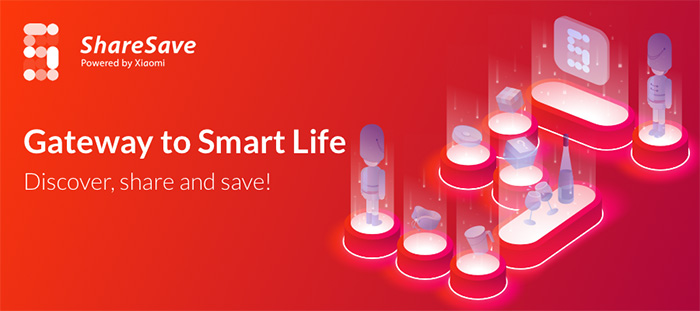 Xiaomi has a community-based culture that is unlike any other company. Befriending users and letting them take part in Xiaomi's product development and advancement has been at the core of the company since the beginning. Xiaomi strongly believes in the power of communities and Mi Fans, and the social aspect of ShareSave is a perfect reflection of this. ShareSave allows for a place where Mi Fans connect, enjoy and share a unique #SharetoSave shopping experience.It also serves as a testing ground for key markets, allowing Xiaomi to learn more about the local demand for various types of product.
Featuring three kinds of purchase modes, users will be able to enjoy shopping discounts in highly social and interactive ways:
Pair-up – Buy with a friend to get an exclusive discount for both.
Drop – Up to 100% price drop when enough friends and family join the drop group.
Kickstart – Contribute $0.2 to back your favorite products and get up to 10 times the reward.
With its unique ecosystem model, Xiaomi has currently incubated and partnered with more than 100 IoT and lifestyle companies. With more than 132 million connected devices (excluding smartphones and laptops), Xiaomi has the world's largest consumer IoT platform.
In-line with Xiaomi's mission to truly bring innovation to everyone, ShareSave offers a comprehensive selection of the products that are crafted by these ecosystem companies, including mobile peripherals, smart hardware and lifestyle products. Many of these products were not previously available outside of Chinese mainland through Xiaomi's official sales channels. Users will now be able to enjoy the latest technology and quality lifestyle products from Chinese Mainland with full local support, such as after-sales services and delivery right to their doorstep at honest prices. Some products available on ShareSave now are Mi x Wiha Precision Screwdriver, Yeelight LED Light Bulb (Color), Soocas Sonic Electric Toothbrush X1 Lite etc.
Check out ShareSave App for more product information, which is now available for download on Google Play Store.
About Xiaomi
Xiaomi Corporation was founded in April 2010 and listed on the Main Board of the Hong Kong Stock Exchange on 9 July, 2018 (1810.HK). Xiaomi is an internet company with smartphones and smart hardware connected by an IoT platform at its core.
With the vision of being friends with its users and being the "coolest company" in the hearts of its users, Xiaomi is committed to continuous innovation, with an unwavering focus on quality and efficiency. The company relentlessly builds amazing products with honest prices to let everyone in the world enjoy a better life through innovative technology.
Xiaomi is currently the world's fourth-largest smartphone brand, and has established the world's largest consumer IoT platform, with more than 132 million smart devices (excluding smartphones and laptops) connected to its platform. Currently, Xiaomi products are present in more than 80 countries and regions around the world and have a leading foothold in many markets.
Source: mi.com