Today is the Global Availability Awareness Day, where Xiaomi welcomed a group of special guests at the Xiaomi Science and Technology Park – Mi Fans with disabilities and Speech Recognition Assistants for Mi AI Speakers. They were invited to the headquarters of Xiaomi to visit Mi Home and R&D laboratories, as well as participate in the Co-creation Session and "Touch the Beauty" Accessibility Sharing Session.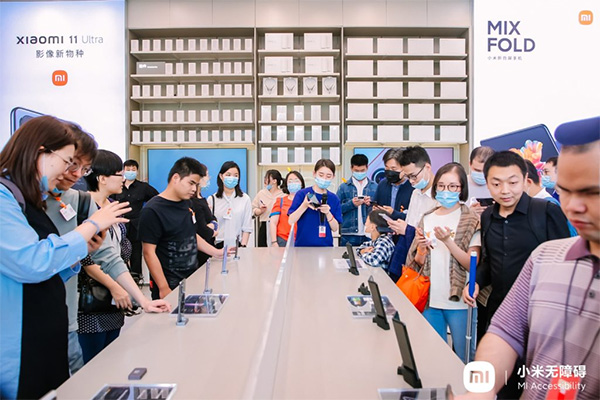 Mi Fans with disabilities and Speech Recognition Assistants for Mi AI Speakers visiting Mi Home
During the visit, team members from MIUI, AI, Services, loT and other departments engaged with Mi Fans with disabilities and understood their needs and suggestions, where they shared some approaches to enhance accessibility after a lively discussion.
Cao Yu, one of the visually impaired Mi Fans, said that the TalkBack on Xiaomi smartphones had brought great improvements to his life. "I can use applications such as WeChat, food delivery and map without any trouble now. It is unimaginable without the accessibility features of my Xiaomi phone." Cao Yu also shared his hopes that the accessibility features on Xiaomi smartphone would become more systematic and more unified in operation details in the future.
"We held this event because we want our team members of Department of Product Design and Department of R&D to communicate with our users with disabilities face to face and to feel what they really need. Only in this way can we truly have the mentality of accessibility and offer better services to our users with disabilities. Our dream is very simple: We want everyone in the world to enjoy a better life with technologies, no one should be forgotten in this journey. " Said Li Weixing, Vice President of Technology Committee, Xiaomi Corporation.
Accessibility is one of the key areas that Xiaomi has been focusing on since its early stage of establishment. As a leader in the field of information accessibility in China, Xiaomi has developed many accessibility features since 2013 based on the strategy set by the accessibility group, feedback from Mi Fans and the support from various departments. For example, a feature called the "Xiaomi Wensheng" (which means "Xiaomi hears the sound" in Chinese) can help users by converting voice to text in real-time. Xiaomi has also developed voice control and hand gesture features for users with physical disabilities, which enable them to control smart devices remotely with Mi AI Speakers or Mi Home App. Besides, the Haptic feature enables the visually impaired users to identify different information with vibration, which won the iF Design Award this year and embodies the innovation of technology in the detail.
Liu Qing, who works in the team of accessibility features in Xiaomi said, "We make friends with users and have established a feedback group for users with disabilities to gauge their comments in time. Concurrently, we present updated accessibility features for users through this group. Xiaomi keeps zero-distance with users with disabilities to ensure products truly meet their needs. Many accessibility features are also gradually developed through on-going communication with users, such as Xiaomi Wensheng and Haptic feature. Xiaomi will also improve the accessibility features systematically in the future." In overseas markets, Xiaomi has also cooperated with Google to fully support Google's accessibility services on smartphones. Although not all the accessibility features are available for overseas markets at the moment, Xiaomi is determined to bring them to users all around the world in the future.
At the "Touch the Beauty" Accessibility Sharing Session, representatives from the visually impaired group Cai Cong and Fu Gaoshan demonstrated the VoiceOver feature and shared the employment status of people with disabilities respectively. Mr. Fu also highlighted the AI Speaker Voice Labeller Project where Xiaomi has created employment opportunities by collaborating with Qualcomm. Tailor-made accessibility software solutions are also provided at work. As of today, 42 people with disabilities have worked to develop the AI Speaker Voice Labeler Project for three years.
Chen Xiaowen, a visually impaired team member working on the Project, has broken the stereotype of people with disabilities and expressed the importance of employment for the disabled. "I have once been denied and refused because of my visual impairment when I tried to find a job. In fact, we could also do a good job as long as we have good accessibility. At my current position, I mainly take charge of labelling users' voices in order to 'teach' AI to understand users' instructions. This opportunity gives me a great sense of worth and belonging, and it has empowered me to pursue a better life."
Technology equality has been one of the priorities of Xiaomi since it was established 11 years ago. Xiaomi has been working on accessibility features for over eight years.
While it is getting more traction in overseas markets recently, Xiaomi also strives to improve the globalization of accessibility features, especially features on MIUI. MIUI has always been compatible with Google's accessibility features at a systematic level and always aligns with the system updates in suggested time. For example, all Xiaomi system apps are compatible with Google TalkBack. During the development of MIUI, Xiaomi adds description tags to each app so that TalkBack can read them correctly. Overseas users can give feedback to Xiaomi if they have any suggestions or questions about these tags and Xiaomi will modify them through localization. Other advice on accessibility is welcomed as well. By cooperating with Google, Xiaomi will continuously enhance its accessibility features.