Global technology leader Xiaomi today introduced the latest and long-anticipated Mi Smart Band 5 to its stellar wearables product line. Offering a host of upgrades from its predecessor, Mi Smart Band 5 boasts a larger 1.1-inch AMOLED dynamic display, improved fitness tracking accuracy, women's health tracking, stress assessment, remote shutter control, and more. With 8 colorful straps and hundreds of themes, everyone can express a unique personality with Mi Smart Band 5.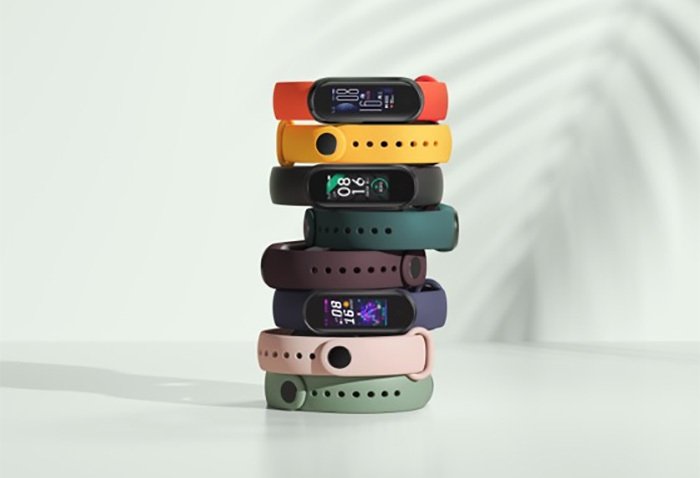 Powering these newly added features is the battery on Mi Smart Band 5 that supports up to 14 days* of continuous usage. Mi Smart Band 5 is also perfectly compatible with both Android and iOS platforms, providing wearers with a seamless user experience.
Upgraded large dynamic display, multiple color straps and themes for customization
As Xiaomi's first smart wearable products to support dynamic home screen feature, Mi Smart Band 5 comes with a stunning 1.1-inch large AMOLED display, marking a 20% increase in terms of screen size compared to its predecessor. Navigating life has never been made easier with extra space for news feeds, notifications, and more. Coming with a maximum brightness of 450 nit and five adjustable brightness levels, Mi Smart Band 5 ensures crystal clear viewing experience, even in back lit situations. It also comes with a 2.5D tempered glass panel that protects the screen from scratches and abrasions.
Adopting a TPU material which is certified by GB/T 26572-2011 certification and is also Europe RoHS compliant, the strap of Mi Smart Band 5 is soft, smooth, and safe to wear. Straps are available in 8 vibrant colors: Black, Blue, Pink, Orange, Purple, Yellow, and Green, making it a great, stylish addition to your daily accessory.
In addition to the exterior design, Mi Smart Band 5 caters all styles and needs with hundreds of customized themes to choose from, including fifty-four IP featured themes such as Spongebob Squarepants, Neon Genesis Evangelion, Hatsune Miku, and Detective Conan. Users can also customize the interface by adding function modules based on their preference, everyday mood, and personal style.
More precise 24-hour health monitoring, includes tracking of menstrual cycles
Mi Smart Band 5 is equipped with a high performance PPG heart rate sensor. The heart rate monitoring algorithm has been further optimized to support the 24-hour heart rate monitoring function. Hence, data monitoring is more accurate than the previous Mi Smart Band generations. Sleep monitoring accuracy feature is improved by 40% and the heart rate monitoring of irregular movements boasts up to 50% improvement.
On top of many performance improvements, Mi Smart Band 5 also introduces more health-related features. In terms of sleep monitoring, irregular and sporadic sleep patterns, and rapid eye movement monitoring features have been added. So even your lunch break naps can now be recorded as actual sleep data. Mi Smart Band 5 calculates heart rate variability and respiratory information during sleep, providing analytics reports to give users more detailed information on their sleeping cycles.
In modern life, many people face sub-optimal health issues. The Mi Smart Band 5 has a built-in PAI Activity Index, which allows you to calculate the levels of your heart rate using a specific algorithm and can provide users with helpful information to aid in exercises and workouts.
Mi Smart Band 5 offers other unique health tracking functions. First, a menstrual cycle prediction function paired with a vibration alert for female users. Second, a stress monitoring function that can advise wearers when they should consider to adjust their breathing or try to rest and relax. Together, these make the Mi Smart Band 5 a thoughtful, personal health assistant on your wrist.
All-new magnetic charging solution, 14-day battery life*
Mi Smart Band 5 adopts a brand new charging solution – simply snap the magnetic charging cable onto the back of the Mi Smart Band 5 when the battery runs low. To power the larger screen and these newly added features, the battery on Mi Smart Band 5 supports 14 days* of continuous usage, offering ease of mind especially when travelling. Also incorporated is a convenient remote photo control function to pair with your phone for taking selfies from a distance, making the Mi Smart Band 5 a perfect travel companion.
Mi Smart Band 5 NFC version allows users to activate XiaoAi AI assistant with a swipe to the right on its display. With a portable XiaoAI AI assistant on your wrist, users can control smart AIoT devices, set alarm clocks, measure heart rate, check the weather, and start exercise routines using voice controls. Last but not least, the Mi Smart Band 5 NFC will be supporting UnionPay mobile payments via an OTA update in late August.
Mi Smart Band 5 will be available at RMB 189, while the Mi Smart Band 5 NFC version retails for RMB 229. Sales starts 10am on June 18, 2020 across all Xiaomi official sales channels in Mainland China.
Stay tuned for our upcoming international Mi Smart Band 5 announcement.