Please find the Simplified Chinese version of this speech below. 该演讲的简体中文版本请见下方。Speech by Lei Jun (雷 军), Founder, Chairman and CEO of Xiaomi on the company's 10-year journey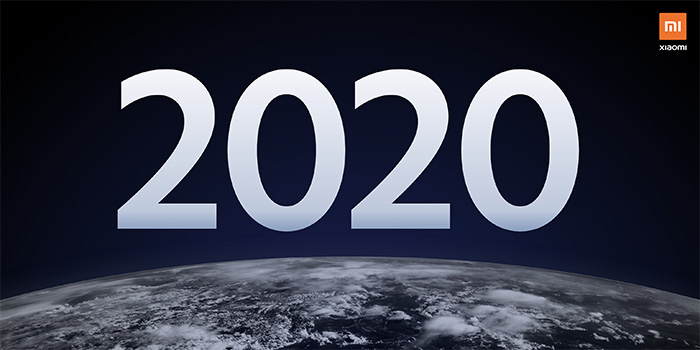 Good evening everyone, welcome you all to tune in to my speech.
The year 2020 is unusual, and the whole world is faced with enormous challenges.
Various radical changes around the globe are deeply impacting everyone's life. We are all asking ourselves, "In these highly uncertain times, what am I supposed to do?"
Everyone is anxious, so am I. But I deeply know that, anxiety won't help. There're many variables in this world that we cannot influence, but what can be changed is our state of mind. We'd have to be resolute in bringing about changes, to our moods and states of mind, to better help ourselves actively brace for this ever-changing world.
I've made some changes to myself, in a possibly simplest way, by walking.
I'd walk every day, and set up a daily goal of walking 10 kilometers, for a trial of one month. For me, this goal was too much and I was not the least bit sure to achieve this.
But there was nothing to stop me, as much as I walked towards the sun, I'd feel the serenity of mind and the strength of driving me forward. Every extra step I made contributed an additional part to buttressing my passion and courage.
As the small project continued, last month, I recorded 318.11 kilometers in distance.
An exercise time of 1 hour and 50 minutes every day, or a daily distance of 10.5 kilometers. A seemingly unbelievable goal has been reached.
We all have quite some major refashioning in these times. Xiaomi turns ten years old this year. We were initially planning a grand celebration, but this whole thing was unfortunately canceled due to the pandemic.
Life still goes on and inevitably needs to be adorned with some ceremonial moments, thus, I've decided to deliver a speech to commemorate this anniversary.
In the meantime, I'd also want to give all our friends who care about Xiaomi a full-scale overview.
Part 1. Setting sail
Ten years ago, I tented up Xiaomi along with a team of buddies.
1.1 Our dreams
The domestic mobile phone market landscape then had three major categories of players: the first one, global brand names, including Samsung, Nokia, and Motorola; the second, the domestic "Four Dragons" — ZTE, Huawei, Coolpad, and Lenovo; then the last, copycat manufacturers that also occupied a considerable market share. While domestically manufactured phones lagged so much behind the quality, global giants dominated the Chinese market with products at exorbitant prices.
As a smartphone zealot and an entrepreneur myself, I was not convinced. Although I have never set a single step in the phone industry, our dream was and has been,
to "make the world's best phones, priced half so that everyone can afford them."
Making the world's best phones, by this small Beijing-based tech mill that started from less than a scratch by an industry outsider, was a hard task.
How could we transform this apparent untrustworthiness into credence?
I proposed a somehow "mind-boggling" idea: all those tech giants are specialized in hardware, how about we make and market smartphones with an internet mindset (using online retail channels, doing minimal traditional marketing, and offering internet services)?
If we could intermingle software, hardware, and internet services, we'd blaze our own trail to success, and pose a disruptive and rule-changing challenge.
I thought a lot about this and came out with a "shortcut": in the industry back then, Motorola had the best hardware business, Microsoft, the best software, and Google the best internet services, assuming if we could gather the best talents from these three companies, then this "triathlon" business model was likely to take shape.
1.2 Sniff around for talents
The first person I approached was Mr. Lin Bin (林 斌), then Vice President of the Google China Institute of Engineering.
He was thinking of leaving his company position and launching an online music streaming start-up. I told him, "Drop it, join me to do something great." I drew a piece of napkin this specific chart ("triathlon" business model). It didn't take him long before he agreed. He then became Xiaomi's No. 2 employee.
The first talent scout went super smoothly, but it was merely a fluke by accident. In an ensuing tryout to hire ten more Google engineers, none bore fruit. I was so frustrated until the 11th. That 11th candidate would be Mr. Hong Feng (洪 峰), an excellent engineer at Google.
He cascaded three questions on me upon starting our conversation.
The first question, "Have you made smartphones before?"
"Never."
The second, "Do you know Wang Jianzhou (王 建宙), (then) Chairman of China Mobile?"
"No, I don't."
The third, "Do you know Terry Gou (郭 台銘)?"
"Terry Gou? I know him, not sure if he can say the same about me."
After three rounds, my thought was that this would go nowhere, but out of courtesy, I still kept leading on the talk for quite a while, if not in a hollow and awkward way.
Then he concluded: "This does not sound very, solid…but worth a try."
In that very instant, I breathed a long sigh of relief. "Done!" It felt as if I hit a huge jackpot.
He was the second Google talent I managed to get aboard.
As an outsider who made this interdisciplinary effort in making smartphones, why would people trust you? When I was interviewing those talents, I was being interviewed too.
In the first year, 80% of my time was spent on hunting for talents.
I've always heard complaints about the difficulty of finding the right talents. It sure is not easy peasy, but the failure of not having enough suitable talents can only be attributed to a lack of time taken.
Conclusion:
Talent scouting needs to be filled with the utmost sincerity and eagerness. If three visits to a talent is not convincing enough, make it 30.
As long as sufficient determination and abundant time are taken, you'll have a great team.
Part 2. Braving winds and waves
2.1 MIUI anecdotes
All these wonderful and revolutionary things are dated back to April 6, 2010, when a dozen of us shared a pot of millet porridge.
We didn't have knowledge about hardware, so I picked software that the team was good at, and started with the operating system.
Without our own smartphones to base the development on, no worries, let's turn to those models by other brands.
The operating system is complicated, no worries, let's base everything on an open-sourced system.
It was not long after Android came into being like an operating system; we then became an Android development forerunner in China.
But the operating system is, after all, a system that requires a massive load of work and a sizable team with more than a dozen people.
No worries, it'd be sufficient if we could focus on those heavily used functions and do them right.
They'd be phone call, text message, contact, and desktop —- the four key functions that shaped up the bone structure of a phone back then.
An extremely sophisticated system buildup project was thus highly simplified by us.
It took us only two months before the first version was finalized.
We installed a forum, where we recruited volunteers to flash the ROM of their own devices. It was a touching moment when we saw 100 users willing to bear huge unforeseeable risks and flash their devices to MIUI.
To show our gratitude to these 100 brave users, we integrated their names into the switch-on screen.
I'd feel proud if I saw my name on the boot screen.
On August 16, 2010, the first version of MIUI was officially launched.
At the very beginning, we had a surprisingly small group of users, only some 100, but super high ratings.
We did no promotion at all, 100 users during the first week, doubled to 200 in the second week, redoubled to 400 in the third, and redoubled again to 800 in the third.
But actually, MIUI first caught some real attention on September 20, when on XDA, the US-based developers' forum, a user recommended MIUI with utmost enthusiasm.
His comment went like: "Whoever they are, these guys have SKILLZ(S)."
"Has anyone heard about this ROM? It(')s the MOST INSANE ROM I(')VE EVER SEEN… It runs SOOO…fast and smooth, and they have COMPLETELY overhauled the UI. It(')s INSANE," he wrote.
Upon reading this comment, you would guess how many joyful surprises MIUI first version brought and the level it reached.
A small start-up team thus received lots of compliment for making a phone operating system driven by the internet mindset. This internet methodology has since been well known.
Since then, MIUI has become trendy in the tech-savvy circle around the world. As a follow-up, users started to voluntarily build up local versions of Mi Community in all the countries and regions, where MIUI versions in different languages were developed, and efforts were taken to adapt this system to different models. A widespread global campaign took shape, with seeds of Xiaomi's globalization sown.
This was the origin of our Mi Fan culture.
In less than a year, the number of MIUI users exceeded 300,000.
Conclusion:
Our keys to success in the internet era — Dedication, Perfectionism, Word of mouth and Agility.
2.2 How did we start making phones?
2.2.1 How did we make Sharp our display supplier?
After lots of effort, we built up the best hardware team we could find, and happily started making phones, finally.
But our optimism was dampened immediately by a huge setback, that good supply chain partners were impenetrable.
The best components from the best supply chain would be needed for making the best phones. For example, we wanted to use the then best display parts from Sharp, but they didn't even look at us on our first round of trial. Then I realized leading supply chain companies would never weigh their cooperation by money from a mini-mill like ours.
I mobilized my thorough network to bridge contact with Sharp by detouring through Kingsoft's Japan branch, from where a thread was pulled to Mitsui Group, then a senior management member helped us nail down a chance to communicate directly with Sharp's headquarters. A meeting was scheduled for March 26.
A serious incident happened in between: on March 11, 2011, a devastating earthquake rattled Japan, followed by the nuclear accident, when the whole world was keeping a close eye on the situation.
Sharp is headquartered in Osaka, little impact directly, but the accident still caused global panic over possible fallouts. We were very determined to board the flight for Osaka for this hard-earned talk with Sharp's senior management team. Three co-founders including me took this trip.
When we were on board, we found there were only three names on the passenger manifest, us three. When we reached Sharp, the whole office building looked empty, and we were the only guests.
This is how we made it with our sincerity.
We had a really tight schedule, I only managed to find one photo which shows Mr. Liu De (刘 德) downstairs of Sharp building.
2.2.2 Birth of RMB 1,999 pricing
Every Mi Fan knows the number related to our first-generation smartphone, which was priced at RMB 1,999.
But what you don't know is that we were planning for a price of RMB 1,499. If 1,999 wowed people, 1,499 would probably cause a frenzy.
Mi 1 (Xiaomi Phone) had an initially planned cost of RMB 1,500 per unit, and then we sold it at a cost price estimated at RMB 1,499. And we boldly forecast a sales volume of 300,000 units.
But in August 2011, I was told of something jaw-dropping by the team that we faced overspending. The cost stood at around RMB 2,000 per unit, RMB 500 over the original plan.
The reason? We joined hands with all premium suppliers. Building collaborations would be much harder if we did not beg them, let alone price negotiations.
If we continued to price it at RMB 1,499, an estimated loss of RMB 200 million would surface. What should we do?
I went to discuss with shareholders, trying to assuage my anxiety, "For an outsider like you, this is the price of an entry ticket to get in the playground."
This entry ticket was too expensive that insomnia beat me over for several nights consecutively.
Could we try raising the retail price to RMB 1,999?
None of us had the answer. With domestically made smartphones priced at RMB 700 on average, would our RMB 1,999 starting price fail big time?
We then took a laissez-faire approach. We would never know the answer without at least trying.
The launch event was at 2PM, August 16, 2011. One day before the launch, we were seriously worried we would mess this up without selling out a single unit.
When I arrived at the venue, there was a big crowd, so big that I couldn't even squeeze myself. Our Mi Fans were super passionate.
I ended up calling four colleagues for help, and they forced my way in.
I was only seated five minutes before the event started when Mr. Li Wanqiang (A-Li, 黎 万强) rushed to me: "The crowd is getting bigger by the minute. I'm worried about the worst-case scenario. Can we start now?"
That was Xiaomi's first launch event, also the only one in history that started 5 minutes earlier than scheduled.
I was a bit nervous when doing the presentation on stage. Then I announced this price 1,999, nervously. The audience burst into a half-minute long tide of applause with festivity. My nerves got eased. "It looks like we made it." We recently found a video clip chronicling that scene.
After the launch, 300,000 online preorders were placed in the first batch.
We were both motivated and bothered by this huge amount of orders. We did not have enough funds, or production capacity.
We were a small tent, no period of credit was allowed by our suppliers. All the productions had to be paid upfront.
The first batch of devices to be produced was 300,000 units, a number in the astronomical unit.
So, our products were popular, we faced a short supply, and immediately we were tagged with the "hunger marketing" label.
The first generation of Xiaomi Phone (Mi 1) registered a sales volume of 7 million units. It was a miracle. Absolutely.
2.2.3 First-generation Redmi is not the Redmi planned
I was not the least bit satisfied with the first-generation Redmi, so we decided to start this all over.
Here vaporized the R&D spending of RMB 40 million.
The first-generation Redmi you all have seen was actually the second generation, codenamed H2.
On July 31, 2013, Redmi phone was launched officially.
We borrowed a meeting room at Kingsoft's office building. No interior design was made except for a single backdrop board. This was the most frugal launch event in Xiaomi's history.
But it brought a considerable momentum that rattled the whole industry so much to the point that the stock price of Kingsoft even rose the following day.
The popularity surrounding first-generation Redmi was far higher than expected, it was phenomenal to have sold 44.6 million units in total.
Behind the big success from Xiaomi's phone business were several hard choices made,
Should we visit Sharp?
Should we raise the price from RMB 1,499 to RMB 1,999?
Should we terminate the almost ready first-generation Redmi and start all over?
Behind each of these bore one or several huge risks.
Conclusion:
Every success story is a story about risk.
We will only have to brace for the risks and make a decisive call.
.3 Everyone learns a lesson from Xiaomi
Xiaomi's high popularity also brought about a bewildering exhibition of extreme sentiments. Many strived to learn from Xiaomi.
During that period that many internet mindset-driven smartphone makers popped out. I didn't really know how they learned from us until Mr. Wang Xiaoyan (王 晓雁), Founder of Small Chili, joined Xiaomi. During an internal seminar, he shared how he tried hard to learn, making us all laugh.
2.4 Our broad and inclusive ecosystem
While Wang Xiaoyan learned by himself, an army of start-up entrepreneurs and business people came to visit us for the experience. We have also been willing to disclose our entire model, hoping to offer help to more entrepreneurs, and push forward the reforms in more industries with our model. In 2014, we started this "Ecosystem plan" to incubate more start-ups.
Let me give you an example of how we did this. Back then, vast flocks of Chinese tourists went to Japan for a shopping spree of rice cookers and toilet seat covers. It hit the headlines as a social phenomenon. It also perplexed me. A decision was instantly made: we will incubate a start-up specialized in developing high-end rice cookers. After doing research for one year and a half, our rice cooker was successfully introduced, creating a great splash.
A Japanese TV network even bought some units and compared them with some of the highest-end rice cookers sold in Japan. In the blind taste test, we won the most votes from local participants at a ratio of 6 to 4. Our rice cooker was priced one-fifth of those with similar functions retailed in Japan. Afterwards, our rice cookers are also available in Japan and they have become very popular.
Over six years, we have incubated over 100 ecosystem companies and marketed over 1,000 products deeply loved by our users.
Part 3. Winding along ridges and peaks
3.1 A bet with Madame Dong Mingzhu (董 明珠)
That was a promising period of time. Looking back, I also did many silly things, for example, having a bet with Madame Dong Mingzhu.
On December 12, 2013, the Chinese state broadcaster CCTV bestowed upon me an honor to be one of the annual figures in economy and business. It was the most prominent public award a Chinese entrepreneur could get. Madame Dong Mingzhu from Gree Electric Appliances Inc. was also elected. In the backstage area, an on-site director arranged my stage presence with Madame Dong and nudged us to help stir up the atmosphere. That staffer also said, in the previous year's gala, Mr. Ma Yun (Jack Ma, 马 云) bet with Mr. Wang Jianlin (王 健林), that deal created lots of trend topics. All of a sudden, I knew what he wanted. Gree, with over 30 years of history, then represented China's booming manufacturing industry, while Xiaomi, a small company aged 3, showed the vibrancy of the new economy, it would naturally accentuate the comparison if putting these two together. So I hinted to Madame Dong, "How about we make a bet too? Shall we set the wager at RMB 1 over the possibility of Xiaomi's annual revenue surpassing that of Gree in five years?" I thought it was merely a joke to make us both feel at ease. Gree was gigantic, with a revenue of over RMB 120 billion, while Xiaomi was at RMB 20 billion, which was barely enough to fill Gree's hundreds and tens digits. Madame Dong agreed, breezily.
Then, everyone knows what exactly happened. On stage, she announced that a bet of RMB 1 billion would be sufficient. At that moment, I was a bit confused, "That's not how the script is written…" A stake of RMB 1 was for making everyone happy; however, RMB 1 billion was a total overstatement. As expected, our discussion, broadcast on live, was spread across the country and became a hot topic inarguably. This also propelled some internet users to educate me on the illegitimacy of this deal. "Gambling with a large wager. You are suspected of breaking the law." I knew it was a joke, so did everyone else except Madame Dong, who had since cared for us on various occasions now and then.
Such an intense level of care was a sweet burden. If you were me, what do you think I should've done?
After that episode, whenever Madame Dong and I showed up in the same event, our dearest media friends would start a photo-shooting spree at both of us, from all possible angles.
You wouldn't imagine how popular we were among photographers.
Since everyone was so eager to validate this bet, we also had to show our serious attitude.
Our revenue soared from RMB 20 billion to RMB 174.9 billion, a significant increment of almost 800%. I think this was a miracle and I am satisfied. Gree's revenue increased from RMB 120 billion to RMB 198 billion in five years, up 60%, it was phenomenal.
However, we lost, eventually.
Dramatic enough, the next year after this bet was over, we won.
Whenever I recall this bet, I'm more regretful than ever. Until recently, I have finally come through this. In that year, we were in a speedy development, so were our confidence and ego leading us to pick a "gambling" with Madame Dong. Before long, Xiaomi was mired in challenges from its fast growth. Through this bet, I furthered my understanding about manufacturing, and about Gree too. It truly is the epitome of the Chinese manufacturing industry and worth all of us learning from.
3.2 Falling at a low ebb
Starting from 2015, the supercharged growth from the start concealed many problems, which were imploded all out.
In the smartphone industry, there had been no precedent of managing to turn the table after the sales volumes plummeted. Xiaomi, at that time, was at the intersection of life and death.
The situation was so austere that I had to take over the Smartphone Department myself.
The whole course was arduous. Also, that was when I was the most stressed out. I always got to work at 9 AM and was still in back to back meetings until midnight. A total of 23 sessions, this number was counted from one of those my days with the most meetings. It was unbelievably tiring.
3.3 The premium flagship Mi MIX series
On October 25, 2016, we launched the Mi MIX phone. When we turned on the Mi MIX screen for the first time during the launch event, it wowed everyone.
Three of the world's renowned design museums even included Mi MIX phones in their collections.
"Mi MIX, as a leader in design, sets trends for future smartphones," commented the curator of the National Design Museum in Finland. Xiaomi spearheaded the full-screen display era we are in. The launch of Mi MIX also marked a prelude for Xiaomi turning the tide.
MIX originated from some wizard ideas from our engineers at the beginning of 2014. What would the future smartphone be like? After discussions, a conclusion was reached to place a full-screen display on the phone's front side. The idea of making a full-screen display smartphone was groundbreaking at that time. They resorted to me for inputs, and I initiated this project right away. "That was a marvelous idea. We should not be concerned about its mass production feasibility or our investment in time and cash; we will have to work on it until we finally present this device."
The success of Mi MIX owes thanks to our invaluable engineer culture. Engineers are our assets. To fully leash our engineers' capabilities to innovate and explore in uncharted areas, we have set up the Xiaomi Annual Technology Award. This is Xiaomi's highest honor to core R&D project teams that bring about prominent technological breakthroughs and contributions. USD 1 million worth of stocks will be awarded.
I'd like to announce a talent acquisition advertisement for our R&D team; as long as you are a tech talent, who is enthusiastic about technologies, we warmly welcome you to join Xiaomi to make your dreams come true.
3.4 About product quality
The price to performance ratio is our most potent weapon, also our weakest Achilles' heel. There is this deeply rooted misperception among Chinese consumers "What is cheap is not good." This makes us easily misunderstood, and our peer competitors also attack us on the pretext of this. How could Xiaomi secure itself in an unbeatable position in the long journey ahead? We'll have to bring about amazing products of global quality.
Quality control and improvement is a long, arduous, and dreary procedure. I won't go much into details.
Your efforts will never betray you. These improvements have earned us lots of awards and accolades, both in China and overseas. In 2019, I received the national top quality and technology award.
Conclusion:
Innovation determines how high we can fly, and quality determines how far we can go.
Part 4. Irreversible globalization
4.1 RMB 1 billion worth unsold inventory
In the third quarter of 2014, Xiaomi ranked top in terms of shipments in mainland China. We were the world's No. 3, solely attributable to the volume of our domestic shipments. Investors were very optimistic about our performance and prospects, asking sharply if the Xiaomi model could be replicated worldwide. In June 2014, we entered the Indian market.
We were formidably peerless, and we soon rose to become the most dazzling brand. Before long, trouble came.
In July 2014, we launched Mi 4, which was shipped and sold at a fast speed. There was even a short supply. Do you all remember "austenitic stainless steel 304" and "a steel plate's art journey"?
The newly-formed India team was very optimistic and promising, and they persuaded me to grant them 500,000 units. In January 2015, the phone was launched in India, but no one anticipated that the sales went flatlined.
Several post-mortem discussions were done afterward. We'd just entered India not long before; it was reckless to ask for 500,000 units of flagships when the brand awareness was low, and the channels unexpanded. An unsold inventory worth as high as RMB 1 billion went left over; that was an apocalypse for our new business in India.
I was stuck when hearing the news. Ship them back to China? Those were all 3G-enabled Mi 4 phones, while in China, 4G had already taken full control. What to do?
We immediately teamed up a "firefighting brigade" and sent them around the world to those markets where 3G phones could still be marketed and retailed. In the beginning, this was a three-strong brigade, fr
om Southeast Asia to Latin America, from Europe to the Middle East, their world footprints were in some 50 to 60 markets.
Back then, Xiaomi's global recognition was a lot lower than it is now, after being rejected countlessly, our colleagues finally blazed a new trail.
Three sorts of partners chose us: traders of raw materials, such as crude oil and natural gas, who wanted to open a new line into the smartphone business; laptop and notebook distributors who were interested in smartphones; and some tier 2 distributors who would want to bet their luck on us. It was with those partners; we made ourselves in the global smartphone market.
In short, after toiling for over a year, this 1 billion inventory was cleaned up, although we suffered some loss.
Maybe it was a misfortune in disguise. The silver lining from this firefighting mission turned into unexpected rewards, that the channels we opened to dump the inventory for self-rescuing laid the foundation for our global expansion.
4.2 R U OK?
Bumpy turns and joyful rides dot along our global expansion journey, for example, the once-popular catchphrase "R U OK?"
We held a product launch event in India back in 2015. The site, a bustling scene, was thronged with Mi Fans.
My colleagues put me on stage on short notice, to say hello to the audience. I was so excited, and the greeting "R U OK?" slipped out of my mouth.
The audience's emotions spurt from a warmup stage straight into a feverish craze.
Unforeseeably, when this video was passed back to China, I made it to the trend topic list.
A Bilibili user even made a video clip by filling in the lyrics with monotonous catchphrases, including "R U OK?" and product names, making me a rising star on that site. After watching it, I'm sure its whimsical melody and lively rhythm will carve into your brain, and you'll never be able to erase it.
Our marketing and public relations colleagues were a bit nervous initially, but I was okay with it, as long as everyone was happy.
But this did bring me some trouble. As a proud alumnus from Wuhan University, ever since then, I have had to explain everywhere that Wuhan University is a prestigious educational institution. It was me who didn't learn English well, not that my university didn't teach English well.
Now, Xiaomi is officially present in over 90 markets around the world. Our brand was ranked within the top 5 in 50 markets. We have been placing Europe on a big agenda in recent years, and we are already No. 3. Good news came this year that we became the top-ranking smartphone brand in Spain, and No. 2 in France.
Conclusion:
Successes can't be well planned, while crises may be a once-in-a-lifetime opportunity.
Part 5. Spotlight moments
5.1 Three moments
5.1.1 IPO
On the 10-year threshold of starting up this business and looking back, there were three spotlight moments.
The first is undoubtedly the IPO.
In the whole IPO process, the most unforgettable thing would be the announcement of 5%.
Prior to Xiaomi's IPO, on April 25, 2018, we held a launch event at my alma mater, Wuhan University. We announced a decision approved by the Board of Directors, a promise to our users that our hardware business will have an overall after-tax net profit margin that will never exceed 5%. If the margin crosses 5%, we will find a way to return the excess above 5% to our users.
You may wonder, as a company that was about to be listed, instead of setting on a roadshow to present your money earning abilities, you were downsizing your room for more profit, what was your problem?
After the IPO, we would become a public company, when the capital would inevitably force us in various ways to make an excessive profit. I am confident that I'm able to fight back against this pressure. But I was so worried, if someday I retired from my position as CEO, would Xiaomi's senior management team continue to make amazing products at honest and accessible pricing points?
I was worried.
Thinking over, there was one and only option, in the form of legal document, to make sure this mission of permanently setting a limit on the hardware net profit margin could be passed down.
I told this idea to my team; all my buddies who had survived the difficult start-up period showed their unwavering support.
However, when I brought this up to stakeholders, concerns brewed, especially over its impact on the stock prices. Some people said, "Are you going nuts? Do you want to get listed or not?" Some said, "This is not what you said from the beginning. We would not spend a penny on this if we knew it sooner." Others said, "We don't have time for this big change. Forget about it."
Many urgent conference calls were organized, in which, several times, the conversations went into a dead-end. I told them, "Good companies earn money, and great companies win users' hearts. If you agree, what you have in your portfolio will be a great company."
After saying this, stakeholders all okayed. A unanimous agreement was reached. After this decision was announced, my social media feed was full of this news.
We received so many accolades, along with sarcasm and questionings. None of these would matter then.
5.1.2 Beijing drifters own a property
The second unforgettable thing would be moving to our own Xiaomi Campus.
Xiaomi Campus opened its doors in July last year, for the first time, we had a permanent address. I was more than excited.
In our eyes, this campus is super pretty, scenic, and trendy. Full of love, we call this place "Sanlitun in Qinghe" (Sanlitun "三里屯" is one of Beijing's upscale shopping and nightlife areas, Qinghe "清河" is the neighborhood where the Xiaomi Campus is located).
I posted an update on Weibo to celebrate that moment.
It went like this, "After over nine years drifting and working our way up in Beijing, we finally purchased a property. Eight buildings cover a floor space of 320,000 square meters, RMB 5.2 billion was spent building this home."
This post went viral and was viewed by 33 million times. It seems that in every drifter's heart, there is a property ownership dream.
One thing I didn't prepare for was that real estate agents were even more excited than me. They reposted it everywhere and commented, "The most inspirational story by a Beijing drifter."
5.1.3 Made to the list of Fortune Global 500
Then we officially made it to the Fortune Global 500 list.
Please take a look, this slide shows the change of Xiaomi's annual revenues, a graceful and encouraging surging line.
With this grade report, we made it to the Fortune Global 500 list, ranked at 468th.
I hadn't credited this with too much significance, but I was excited when we were finally in.
When I wrote an open letter to all Xiaomi employees, some colleagues suggested we be humble. "At least we can feign to be nonchalant."
I said, "We don't have to hide our true feelings. I have been an entrepreneur founding different start-ups ever since I graduated. You have no idea how much I have been jealous of those people, such as Lin Bin, who had the chance to work for a Fortune Global 500. It has taken us quite some effort to make ourselves a Fortune Global 500 company. I'll have to show off because I am finally one of those people."
Yesterday, we made it to this list again.
We are grateful for these great times, also to every of our Xiaomi colleagues.
Xiaomi has been compared with some long time 500 companies including Apple, Huawei and Samsung. We still have a long way to go.
But, Xiaomi is only a 10-year old child; if you view this company for its growth prospects, you will find lots of things we do well, for example:
In Boston Consulting Group's 2020 ranking of the world's 50 most innovative companies, five Chinese companies made the list, including Huawei, Alibaba, Tencent, JD.com, and Xiaomi.
A ranking by Derwent on the top 100 global innovators list for 2020, only three Chinese companies were listed, including Huawei, Xiaomi, and Tencent.
In 2020 BrandZ top 100 most valuable global ranking, 17 Chinese companies were listed, with Xiaomi at No. 81.
These three rankings show that at least we have done some excellent work in innovation and branding.
Of course, Xiaomi may still have a distance from what it is expected, but I'm sure our future growth will be beyond our imagination.
5.2 What has Xiaomi changed in this past decade?
Xiaomi's decade embodies the 10-year growth of the mobile internet industry.
It has been our great honor to have been striding forward with these great times.
A look back at the ten years, what has made us proud?
Firstly, we have joined hands with our peers, made smartphones accessible to everyone, and fast-tracked the development of mobile internet.
Mr. Cheng Wei (程 维), Founder of DiDi, once said,
"All us mobile internet entrepreneurs and start-ups in China probably owe Xiaomi a thank you, for its contribution to making mobile internet available to all. Meituan, DiDi, ByteDance, Kuaishou, to name a few; all these top internet companies you are familiar with are direct beneficiaries of mobile internet's development."
Secondly, we have mobilized and joined hands with like-minded entrepreneurs. Together, we have changed many industries and given well-deserved recognition to many entrepreneurs.
At the beginning of 2015, our ecosystem invested in Mr. Chang Jing (昌 敬).
He was a young man who just resigned from a big company for building his start-up. No one would have imagined that within five years, Roborock could become the true leader in the robot vacuum cleaner industry. The company was listed on the Sci-Tech Innovation Board under the Shanghai Stock Exchange in February this year, with a market value of RMB 40 billion. Xiaomi's ecosystem model has revolutionized over 100 industries and incubated many entrepreneurs like Mr. Chang Jing.
On top of the above, Xiaomi has even changed some people's lives.
Ellyana, mother of three children, lives in Batam, Indonesia. She was bereaved of her husband years ago, when the loss of the sole income source pushed her whole family into insolvency.
After Xiaomi set up local production lines three years ago, she found a job which has since changed her life. Her salary helps make the family's ends meet. She has also made lots of friends at work and seen the bigger world. 90% of the workers on our assembly lines in Indonesia are female. Our business has helped many of them improve their life quality, learn skills, get on-job training, broaden their views and scopes, and bring them hope.
5.3 An autobiography of Xiaomi
With the explanations above, I answered the question "Where does Xiaomi come from?"
Frankly, the past decade was full of amazing stories, and a single speech does not cover them all.
We are honored to have a well-known Chinese biographer, Ms. Fan Haitao (范 海涛), who compiled the company's first official biography. The writing project started at the end of 2018. For one year and a half, she has conducted over 100 sessions of interviews.
The book is titled From 10 to Infinity (一往无前).
I'd like to thank Ms. Fan, also, my appreciation and respect to CITIC Press Group for their abundant preparation work.
After this speech, the book will be available for purchase online. If you want to know more about Xiaomi and its stories, please take my recommendation and enjoy the reading. The book has 360,000 characters, packed with informative details.
At age 10, Xiaomi is getting mature pace by pace.
Our R&D expenditure is expected to surpass RMB 10 billion.
Our ceaseless motivation to extensively explore and continually innovate and R&D investments of RMB 10 billion have enabled us to bring more and cooler products to everyone.
We have prepared some products specially tailored for this anniversary to introduce to you all.
Ending:
Who is Xiaomi? For what are we striving for?
This speech is approaching an end.
We are not only launching new products, but declaring our manifesto for the next decade.
Answers to these two questions "Where did Xiaomi come from?" and "Where are we heading to?" lie in the products we just introduced.
1. Mi 10 Ultra contains many breakthroughs in technologies. 120X ultra zoom camera, world's No. 1 in DxO Mark, 120W wired fast charging, 50W wireless fast charging, and etc. Xiaomi's courage and strength in competing in the high-end smartphone market are just buttressed by these cutting-edge technologies.
We will never cease to explore and continuously innovate, this is the attitude we have been adhering to since 10 years ago upon bringing everyone the most innovative technologies.
2. Redmi K30 Ultra brings to you a zero regret flagship smartphone at RMB 1,999, to pay our tribute to our dreams, and our 10 years together with our Mi Fans.
We stick to offering the best price to performance ratio through this phone, representing our utmost sincerity of placing users at the center of everything we do.
Be it mid-range, or flagship, we will always offer our products at the most accessible pricing points so that our users can purchase them with their eyes closed.
3. Mi TV LUX Transparent Edition, the world's first mass-produced transparent TV. It's already very cool to turn impossible into possible.
It's always been Xiaomi's pursuit to make the coolest products, and vision to become the coolest company in the users' hearts.
We are a bunch of engineers, only if we make the coolest products can we fulfill our duty.
Xiaomi will always stick to these three guiding principles to attach great importance to bringing the most innovative technologies, stick to the best price to performance ratio and make the coolest products.
Future strategies
We have talked a lot today about our achievements in the past 10 years. We are proud.
But, we have to be wary of our own way ahead, faced with the extremely intricate international situations and fierce competitions.
Neither complacency over old trophies, nor aggressiveness without a clear goal would work. This is the dilemma where we are today.
Now, we have three points in the strategy:
1. A start-up once more.
To lead ourselves out of today's predicament, we would need the passion from our start-up period. Talents must be valued, incentives need to be given and strategic opportunities have to be grasped.
2. Internet + manufacturing.
We believe in the power of the internet, and its approaches. We will continue to empower manufacturing with the internet.
We will also be participating deeply in every step of manufacturing by cordially collaborating with our partners:
We have developed lots of high-end manufacturing facilities, and designed the fully automated production line of high-end smartphones.
Xiaomi has made some investments to shape up our future of becoming the "manufacturing of manufacturing".
3. Plan together, walk farther.
We will evaluate all the things in a view of 10 years, and do things that will value in the long-term.
In the meantime, we will keep a prudent strategy.
I firmly believe that,
Over the next decade, crazy ideas will be actualized, and we will be a site of engineering pilgrimage.
Over the next decade, smart life will have a huge impact on the world, and we will lead a future way of living.
Over the next decade, smart manufacturing will further raise our brand awareness, and we will be a new driving force in the manufacturing industry.
Over the next decade, we will continuously create amazing and innovative products at accessible and honest pricing points for everyone in the world.
Our journey forward:
Our 10th anniversary marks a new beginning, a renewal of our drive to carry our dreams to infinity. Thank you all.