Just remember your childhood when you were playing in the snow. With how much joy you woke up and discover that everything around is white and bright. It snowed. It was like we were expecting the snow all year long, and when it was snowing our parents could barely get us back in the house.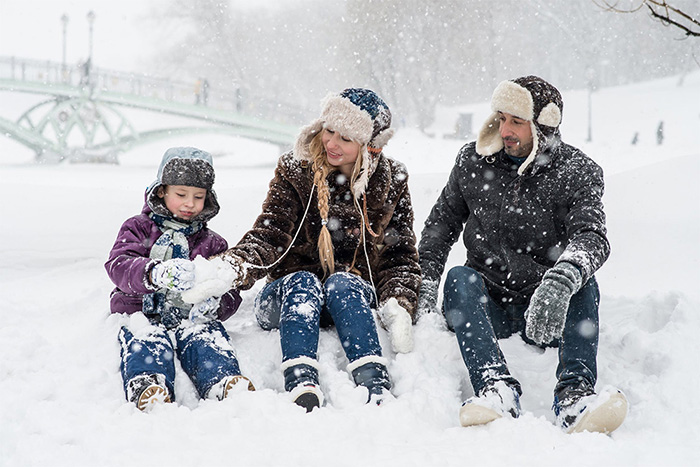 Nowadays, caught in the technology world, children have to learn to enjoy being "outside". Online activities should have alternatives at least as appealing in the offline. Even if it's winter and snowing, this is not a reason to stay in the house, but on the contrary. There are a lot of things to do out in the snow. We only need a proper outfit and maybe a second row of dry clothes to be swapped before a new round of play.
The snow is magical and it's attracting us since the first flakes. We see them floating slightly, their dance has something hypnotic. We could watch them all the time without getting enough. Their simple contemplation brings joy, relaxes, and if we look at them closely, through a magnifying glass, we discover a fascinating world of crystals in various forms and patterns.
If we get enough snow, we can play in different ways. From snowballing, sleighing, skiing to snowbuilding: snowmen, casemates, walls. Walking through fresh snow to leave traces or creating angels in the snow, drawing in the snow, find hidden objects, coloring the snow with watercolors, practically just our imagination could limit us.
Use of forms for plasticine or biscuits to build and shape the snow. We can carve, mold, decorate with elements of nature (twigs, all kinds of beans, fir cones, dried leaves). Girls can cook with snow in toy containers. The boys will race cars on a snow-covered track with climbs and downs.
We can bring from home their favorite toys because introducing them to a new environment it stimulates creativity, and play scenarios will flow one after another. Static games should alternate with the dynamic games (running, snow, jumping, etc.) so that the little ones stay warm.
What is the benefit playing out in the snow? Cheeks and red little noses, lots of joy and health. Throwing in soft snow helps relieve body and emotional tensions. Falling and lifting without getting hurt builds self-confidence. The child can build and destroy without breaking anything and start over and over again. This facilitates exploration and personality building. Clean and cool air, movement and joy helps develop a powerful immune system.
Is it winter? Get outside and play in the snow!