Constantly pursuing innovation and technological excellence, today Xiaomi unveiled the third generation of Mi TV Master Series – Mi TV LUX 82'' Pro and Mi TV LUX 82''. Packing a set of features that define next-generation content consumption, the latest additions to Mi TV LUX series sets a new benchmark for the transforming TV industry.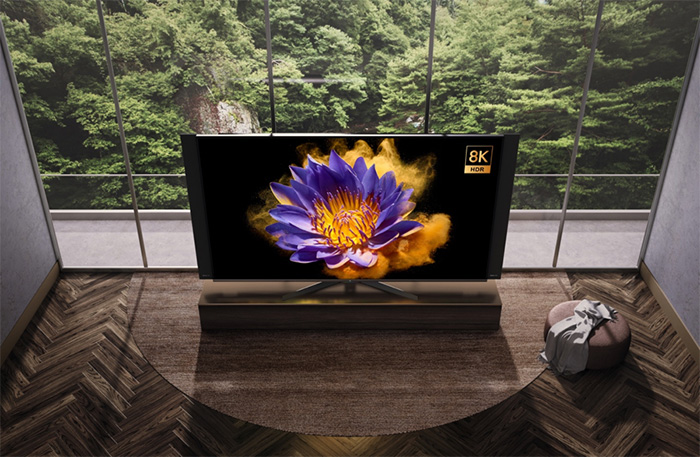 Mi TV LUX 82'' Pro
Coming with a massive 82'' screen, the ground-breaking Mi TV LUX 82'' Pro is the ultimate portal into the world of 8K entertainment. From the screen panel, chipset, algorithms to ports, Mi TV LUX 82'' Pro provides an all-encompassing 8K experience, capable of outputting true 8K quality images regardless of the input method thanks to 5G support as well as USB 3.0, HDMI 2.1, and ethernet ports.
Mi TV LUX 82'' Pro features the cutting edge Mini LED backlight technology. Along with its 960 segmented backlight system, Mi TV LUX 82'' Pro provides 2000nits of peak brightness, and a contrast ratio as high as 400000:1. It also adopts quantum dots and offers a 98% P3 color gamut for breathtaking color representation. On the audio front, Mi TV LUX 82'' Pro introduces a brand-new form factor that brings innovation to the next level. When users turn on the TV, two independent audio soundbars with a custom-designed speaker layout and Dolby Atmos support automatically slide out from both the left and the right sides, producing a truly immersive sound that will make users feel as if they are in the center of a theatre or a concert hall.
Mi TV LUX 82''
Mi TV LUX 82'' offers the best price-performance ratio for a 4K TV this year while also inheriting the premium genes of the LUX series. Aside from the giant 82'' screen, Mi TV LUX 82'' supports Dolby Vision, and is certified to all HDR standards, including HDR, HDR10+, HDR10, and HLG. It offers 1000 nits peak brightness, high contrast ratio, Dolby Atmos, and comes with HDMI 2.1 support.
Both variants come with the MIUI for TV system that can turn the TV into a central hub for all Xiaomi AIoT devices thanks to the built-in XiaoAi AI assistant 3.0 and far-field voice control. Mi TV LUX 82'' Pro also comes with an in-box NFC remote control that allows users to cast video from their smartphones by merely touching it with their handset.
The introduction of Xiaomi's TV LUX series is a clear result of the years that Xiaomi has put into accumulating cutting-edge TV technology. With these two new additions, Xiaomi TV LUX series successfully distinguishes itself from the fierce competition in the sector. Through the TV LUXseries, Xiaomi will continue to push forward high-quality products making the best use of innovative form factors, IoT, 5G, AI, and other technological breakthroughs, while also making them accessible to everyone.
Mi TV LUX 82'' Pro and Mi TV 82'' will be priced at RMB 49,999 and RMB 9,999 respectively, available for purchase from Sep 28, 2020, and Oct 21, 2020, from Xiaomi's official channels and authorized resellers in mainland China.